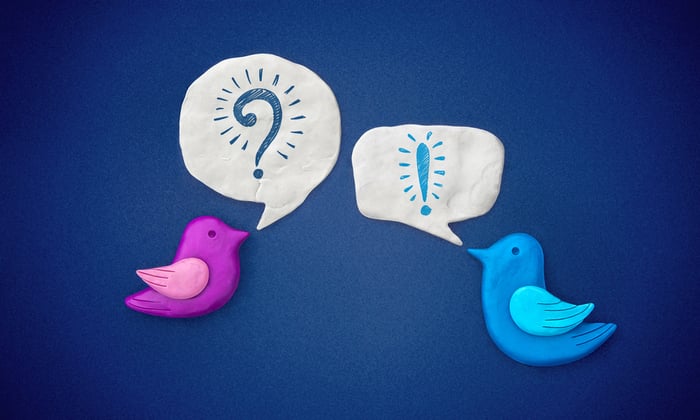 It's likely that social media marketing plays a vital part in your brand strategy. If that's the case, you're probably always on the lookout for new platforms and product features that enable you to interact with and engage your audience in different ways. This means you should know about Twitter Spaces.
Hot on the heels of launching Fleets, Twitter announced the initial rollout of Spaces, a new social experience built around audio-only chat rooms. It's currently in the private beta phase, but it's already clear that Spaces could offer numerous benefits to brands when it's more widely available.
Here's my take on Twitter's latest feature.
What Is Twitter Spaces?
If you've got your finger on the pulse of social media, you've likely heard of a buzzworthy platform called Clubhouse, an ultra-exclusive, invite-only, audio-based social app that's been a big hit with A-listers and Silicon Valley leaders alike.
Users have described it as akin to a live-action, free-flowing podcast where you can jump in and out of different rooms, listening to or joining in with conversations on a vast range of topics.
Spaces is effectively Twitter's take on Clubhouse, except that it'll (eventually) be available to everyone, not just a select few.
However, whereas Clubhouse has drawn criticism for its light approach to moderation, which makes it a potential breeding ground for online harassment, Twitter has made Spaces big on inclusivity. Its vision is to replicate the "magic feeling" of a "bomb dinner party," where you don't know all the guests, but everyone feels comfortable at the table.
At the time of writing, Twitter Spaces is still in the beta testing phase, with only a couple hundred users onboard, predominantly from groups prone to experiencing harassment and trolling. However, the initial reception has certainly been positive.

How Does Twitter Spaces Work?
Now, let's get into the nuts and bolts of Twitter Spaces.
Only those in the beta testing group can create Spaces, but anyone on iOS can join one. Twitter promises to expand the list of people who can create Spaces over time. When you get access, you'll be able to start Spaces in two ways:
By long-pressing the Compose button, and then tapping the Spaces icon on the far leftOr by tapping your profile image in Fleets, scrolling to the far right, and tapping Spaces
While there's no ceiling on the number of listeners to any given Space, the number of speakers is limited to 10. However, Twitter prefaces this with the words "for now," which suggests it may increase the capacity for speakers down the line.
The host of a Space can determine who's allowed to join with speaking privileges by choosing from:
EveryonePeople you followOnly people you specifically invite to speak (invites are sent as direct messages)
Once a Space is up and running, the host has the power to remove, report, and block participants, and they're also the only person who's able to end a session.
Now, more on that bit about removing, reporting, and blocking. In an ideal world, Twitter Spaces would be self-policing, with trolls immediately kicked out and reported for infringements, but that's not the case here.
Twitter says it'll retain copies of all Spaces for 30 days after they end, giving its team the chance to review the session for violations of the Twitter rules. If they find any violations, they'll increase the timespan to 90 days to allow people to appeal if they believe a mistake has been made.
For as long as Twitter retains any given Space, the host can download a copy of the full session data. They also have the option to download a transcript of the session, as long as they enable transcriptions.
While it's still early days, the Twitter Spaces team has also unveiled a handful of other features that are in testing, including:
Hand gesture-style reactionsLive transcriptions, although Twitter says it's working with a "very early version" of this featureSharing tweets in Spaces How Organizations Can Use Twitter Spaces
Now you know what Twitter Spaces is, and you understand a bit about how it works. How can brands use this new feature to take their Twitter marketing to the next level?
These are my early impressions; I'd like to qualify them by noting that more use cases may become apparent once Spaces leaves the beta phase and gets rolled out more widely.
Gain Audience Feedback
Audience feedback is super valuable. It helps us iron out creases in our products, road test new ideas, and measure consumer sentiment toward our brands.
Traditionally, gathering feedback was all about running focus groups, but those in-person sessions take a lot of time to organize and, by design, only reach a tiny proportion of your audience.
As a result, brands have increasingly moved toward online customer surveys, often through tools like Google Forms. Surveys help you reach a much wider audience and make it easier to gather quantitative data that you can track over time.
However, surveys aren't perfect, either. In particular, they lack the face-to-face, human touch that makes focus groups so effective. It's easy to miss the nuance behind an answer when it's typed into a form rather than delivered as part of a two-way conversation.
Twitter Spaces could be the perfect balance between the two:
They're digital, so you can reach many people without dragging them to a physical location.They allow for real back-and-forth conversation, which helps you get much richer, more nuanced feedback.
What's more, because Spaces are part of Twitter, you can use social listening to track down the ideal people for your digital feedback sessions. Monitor Twitter for mentions of your brand, products, competitors, and other relevant keywords, and send invites to the most relevant, engaged users.
Roll Out New Features or Products to Followers
When it comes to gaining general audience feedback, it's helpful to look beyond your existing customer base. This can help you understand how non-customers perceive you versus your competition.
However, when you're planning new features or products, it makes sense to stay closer to home because the most valuable feedback to help guide those decisions will come from the people who use your product day in, day out.
Again, Twitter Spaces can assist you here, provided you have a decent social following. Set up a Space, add your followers, and then ask for their feedback. It's faster and easier than sending out a survey, and it allows you to leverage your existing audience on Twitter.
Host Discussions on Trending Topics in Your Industry
Panel discussions offer a double win for brands:
They position you as a thought leader with your finger on the pulse of your industry. Why does this matter? Research from Edelman found that thought leadership strengthens your reputation and positively impacts request-for-proposal invitations, wins, pricing, and post-sale cross-selling.They allow you to invite potential prospects to join your panel, giving you a chance to network with them, demonstrate your expertise, and nurture your relationship.
Additionally, Twitter Spaces could be an excellent substitute for in-person panel talks because it's easier (and more cost-effective) to invite a group of people to a Space than to a physical event.
Because the host has complete control over who joins a session and who's allowed to speak, and they have the ability to kick people out if they're not playing by the rules, Twitter Spaces could be ideal for discussing trending topics in an environment that's free from abuse and trolling.
Interact With Followers in Real Time
Once upon a time, brand communication was pretty much a one-way street. You'd launch a new campaign, sit back, and hope your audience laps it up.
That's not the case anymore. Today, people expect genuine, two-way interactions with brands. Not only that, but 64% of consumers and 80% of business buyers expect those interactions to happen in real-time.
That sort of live engagement just isn't achievable through most platforms, but Twitter Spaces makes it possible. Your audience can tune into your live discussions, react, and potentially even get involved in the conversation (as long as they're selected as a speaker).
However, it goes way beyond just engaging your existing audience.
Because people in your Space are allowed to invite other participants, you can encourage your followers to share it with their followers, thereby getting you in front of a much wider audience.
Conclusion
With Spaces, Twitter appears to have retained many of the elements that made Clubhouse such a hit while addressing the harassment concerns. That makes it a safe and palatable space for brands to build and nurture a highly engaged Twitter following.
Any platform, tactic, or tool that helps marketers break down the barriers between brands and audiences is worthy of attention, so I'm looking forward to learning more about Twitter Spaces when the private beta ends and it gets a full launch.
Do you want help with your social media strategy? Contact us!
What do you think about Twitter Spaces? Perhaps you're part of the beta trial and have hands-on experience, or maybe you're just excited to try it out yourself. Either way, let me know in the comments!
The post How Organizations Can Use Twitter Spaces appeared first on Neil Patel.
Read more: feedproxy.google.com